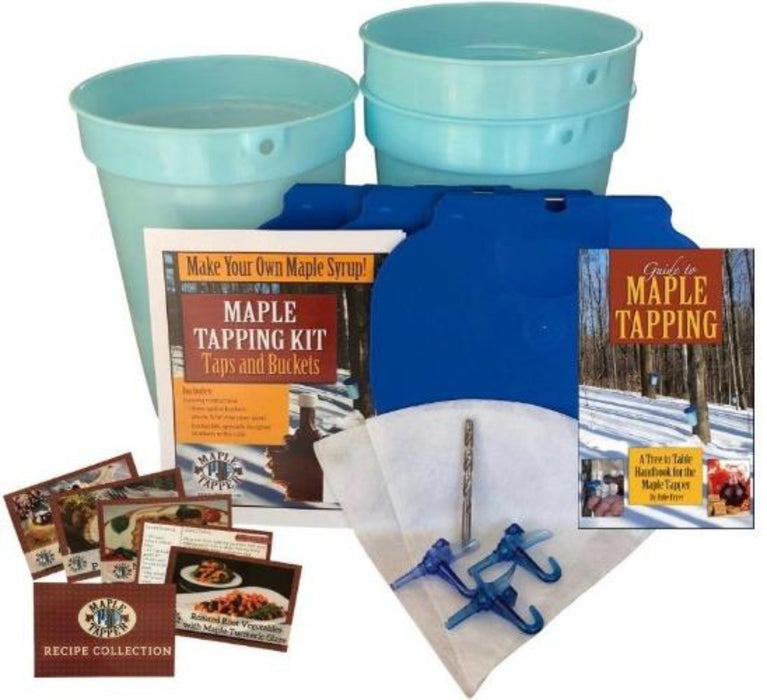 Deluxe Maple Tapping Kit | Three Buckets, Lids & Spiles | 80 Page Guidebook, Drill Bit, Filters
If you're ready to handle a bit more sap, this kit is for you!
We've taken our easy-to-use starter kit and expanded it so you can make more pure maple syrup. With three three-gallon buckets, you can make a lot of syrup and this equipment will last for many seasons.
This Deluxe Maple Syrup Bucket Kit includes:
3 Three-Gallon Buckets Heavy-duty, food-grade blue plastic tapping buckets,  each holds three gallons of sap

3 bucket lids Specially designed to attach to the tapping spile and stay put on the bucket
3 plastic 5/16" Tree Saver spiles (taps) Integrated with the lid with special hook to hold the bucket for collection. Better for the tree!
Two one-quart cone filters Designed for small batch home sugarmakers these filters works at all stages and are easy to handle so no spills or burns. Fits into a standard sieve stand.
Washable & Reusable All of this gear is washable and reusable and will last for many tapping seasons.
One 5/16" wood-boring drill bit Just add a portable drill and you're good to go.
Professionally written, 80-page "Guide to Maple Tapping" Walks you through the entire process from identifying trees to drilling the hole to filtering, boiling, and bottling the syrup. Includes recipes and advice from professional sugarmakers.
Handy Quick Start Instruction Sheet Take with you to the tree for a reminder on how to tap.
Exclusive Recipe Cards Pure maple syrup is for more than pancakes! It's paleo-friendly, all-natural and organic and a perfect sugar replacement in any recipe. Try these delicious options for every part of your menu.
Lifetime Guarantee on all taps and tubes plus full support from all of us at Maple Tapper (we're tapping too!).