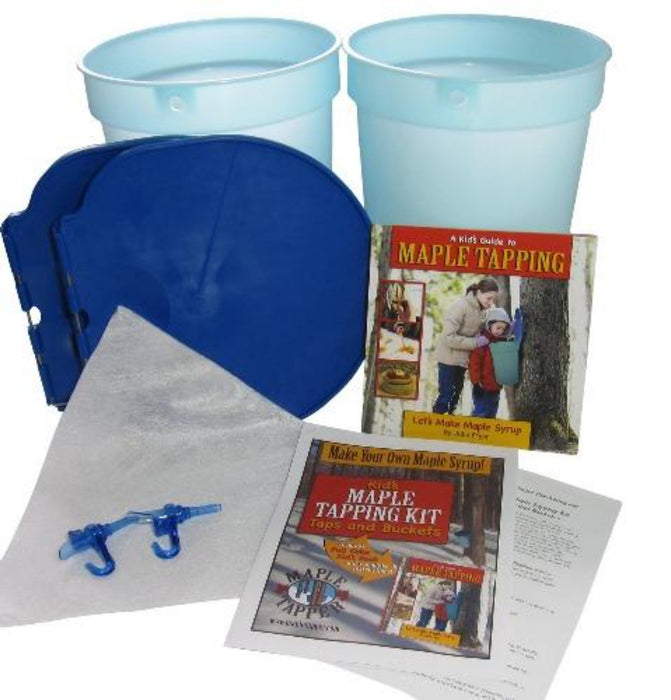 Kid's Maple Tree Tapping Kit | Buckets, Lids, Taps, Book | Start a Sweet Family Tradition
Our Kid's Maple Tapping Bucket Kit turns learning about nature into a sweet treat! Your littles will love gathering their own sap and you'll have a great excuse to get outdoors. Lightweight and easy-to-handle, this is the perfect gift for your junior sugarmaker. Don't worry, the book includes full instructions for grown-ups. This kit is specially designed teaching and family sugarmaking traditions you'll all enjoy. Just add a maple tree!
The Kid's Maple Tapper Bucket Kit includes:
Two 3-Gallon Buckets. Premium food-grade, BPA-free, ultra-high impact polypropylene. Heat and UV stabilized. Designed to hang on spile hook
Two Heavy Duty Lids. Food-grade, BPA-free, ultra-high impact polypropylene, locks to spile to hold firmly in place
Two 5/16" Tree Saver Spiles. Shown to cause 30-35% less damage to the tree compared to traditional spiles with same sap output.
High visibility blue. Washable and reusable.
One Maple Syrup Filter. Includes one 1-quart prefilter, cone-style, designed for sugarmaking, use for all stages of syrup making to remove niter (sugar sand). Washable and reusable.
Exclusive Kids' "Guide to Maple Tapping" Written especially for the young sugarmaker and filled with photos, illustrations, and activities, this book takes the reader from tree to table. You'll learn what trees to tap, how to collect the sap, how to make syrup, and the science behind this age-old process. The book also includes a special section for adults with step-by-step instructions on home sugaring.
Handy Quick Start Instruction Sheet – take with you to the tree for a reminder on how to tap.
Exclusive Recipe Cards – pure maple syrup is for more than pancakes! It's paleo-friendly, all-natural and organic and a perfect sugar replacement in any recipe. Try these delicious options for every part of your menu.
Lifetime Guarantee on all taps and tubes plus full support from all of us at Maple Tapper (we're tapping too!).
Made in North America, Filters made in USA