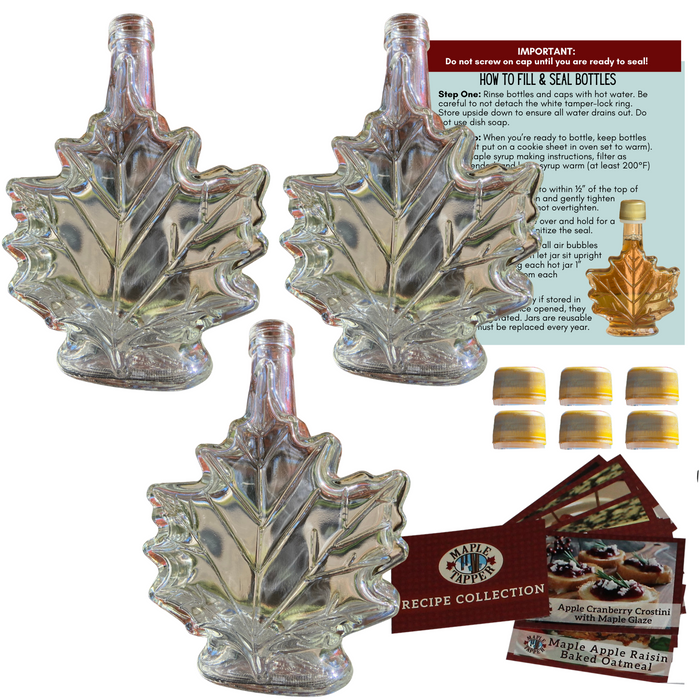 3 Glass Maple Syrup Bottles | Maple Leaf Design (250-ml) Bottles, 6 Self-Sealing Caps | Food Grade Canning Bottles for Sugarmaking
Save

Liquid error (snippets/product-badge line 32): Computation results in '-Infinity'

%
This traditional, unique maple leaf glass bottle is perfect as gifts to your favorite sugarmaker or to your friends filled with pure maple syrup. Each bottle holds 250 milliliters (8.45 ounces) with a gold, plastic lid with tamper-lock ring. Just twist on during bottling and bottle is sealed. This set also includes three extra lids!

Front of bottle has high relief maple leaf design, back is smooth so you can put a label on. Clear glass is absolutely stunning when your pure maple syrup shines through.
This exclusive Maple Tapper Leaf Bottle Set includes:
Three Maple Leaf Glass Bottles, 250 ml (8.45 oz)/each. Canning quality, food grade bottles designed for bottling and storing pure maple syrup. Reusable and great for gifting pure maple syrup to friends and family.
Six Self-Sealing, Tamper-Lock Caps. Gold plastic screw-on lid with inner seal and tamper-lock ring. Using the hot pour method, the caps will create a seal when screwed on. Just twist on after filling with hot syrup. (Please refrigerate syrup after opening.) Set includes three extra lids for next season!
Full Instructions. We use these bottles at home and clearly explain how to fill and seal in the enclosed instruction sheet.
Five Exclusive Recipe Cards Pure maple syrup is for more than pancakes! It's paleo-friendly, all-natural and organic and a perfect sugar replacement in any recipe. Try these delicious options for every part of your menu.
Lifetime Guarantee plus full support from all of us at Maple Tapper (we're tapping too!).
Washable & Reusable These bottles are dishwasher safe and can be reused over and over for many years, all you need are new caps every season.
Made in North America
Maple Tapper is a small, family-owned, 3rd generation business, located in the heart of Maple Tapping country. We've been making our own maple syrup since 1975 and are excited to help you learn.