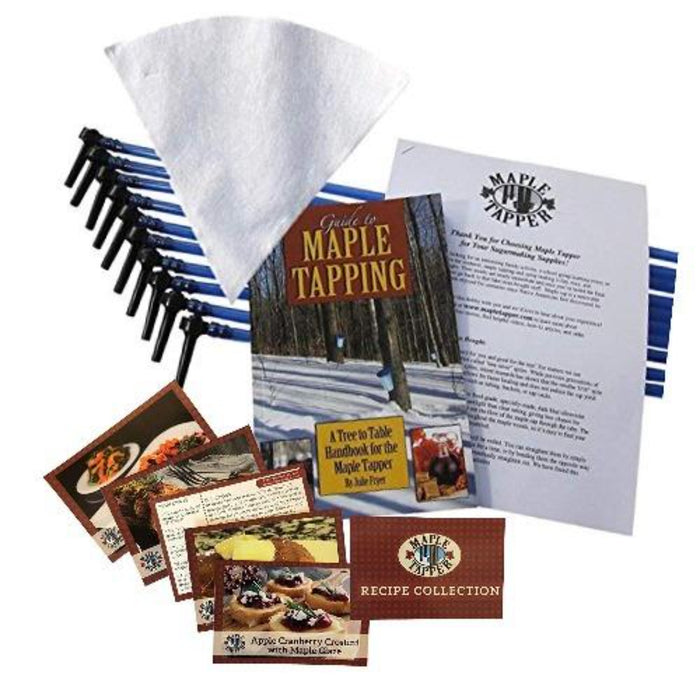 Maple Syrup Tree Tapping Kit + Book | 10 Tree Saver Spiles, 10 Three-Foot Tubes, 1 One-Quart Filter, Guide to Maple Tapping Book
Everything you need to learn maple tapping and make your own pure maple syrup.
Designed for everyone from beginners to experienced sugarmakers. Just add a few maple trees and a little patience. A great family activity and easy-to-learn outdoor hobby. Don't miss out! The season is short and sweet -- when the temps fall below freezing at night and get into the 40s during the day, it's time to tap. Once the trees bud out, the season is over.
Tap Ten Tree Maple Syrup Making Kit includes:
Ten Tree Saver 5/16" Spiles (taps) Heavy-duty, food-grade, plastic designed for maximum sap flow but easier on the tree. Compared to traditional 7/16" spiles, Tree Saver Spiles cause 30% to 35% less damage but have the same sap output.

Ten 3' long tubes (droplines) Made to snugly fit the Tree Saver spiles, each length of tubing is BPA-free and flexible. Dark blue coloring is more bacteria resistant than traditional clear tubing; it draws less sunlight, yet still shows the flow of maple sap. With a coupler, these tubes can be attached to longer mainline tubing.

One-quart filter Designed for small batch, home sugarmakers this filter works at all stages and is easy to handle so no spills or burns. Fits into a standard sieve stand.

Professionally written, 80-page "Guide to Maple Tapping" Walks you through the entire process from identifying trees to drilling the hole to filtering, boiling, and bottling the syrup. Includes recipes and advice from professional sugarmakers.

Handy Quick Start Instruction Sheet Take with you to the tree for a reminder on how to tap.

Lifetime Guarantee on all taps and tubes and full support from all of us at Maple Tapper (we're tapping too!).
Learn more about how to make maple syrup on our Common Questions page here.