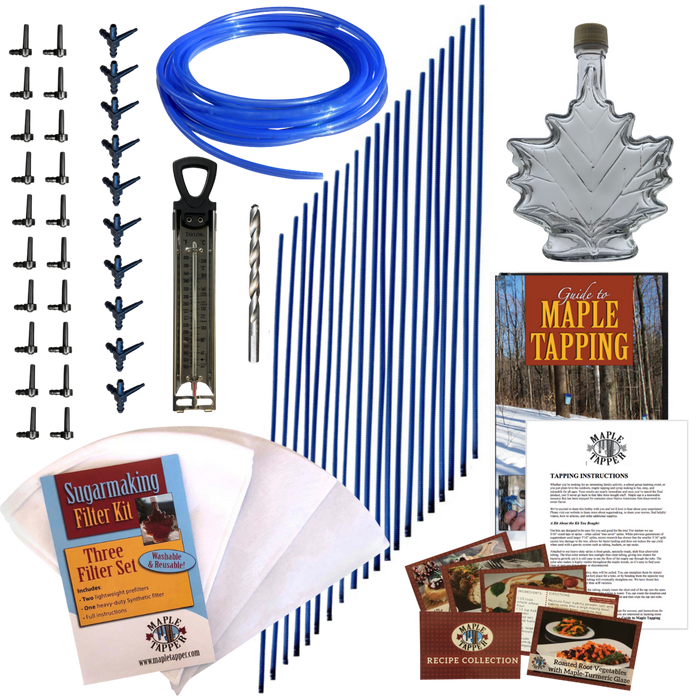 Ultimate Maple Syrup Tapping Kit | Droplines, Tubing, Spiles, Connectors, Filters, Thermometer, Drill Bit, Leaf Glass Bottle, Guidebook
Save

Liquid error (snippets/product-badge line 32): Computation results in '-Infinity'

%
Save time in the woods with this great kit designed for the ultimate sugarmaking experience. Everything you need to tap 20 trees, connect them up for easy sap collection, and make gallons of pure maple syrup. All equipment is reusable from season to season.
The Maple Tapper Ultimate 
Tubing
Kit includes:
Twenty Tree Saver 5/16" Spiles (taps) Heavy-duty, food-grade, plastic designed for maximum sap flow but easier on the tree. Compared to traditional spiles, Tree Saver Spiles cause 30% to 35% less damage but have the same sap output.
Twenty 3' long tubes (droplines) Made to snugly fit the Tree Saver spiles, each length of tubing is BPA-free and flexible. Dark blue coloring is more bacteria resistant than traditional clear tubing; it draws less sunlight, yet still shows the flow of maple sap. With a coupler, these tubes can be attached to longer mainline tubing.
50' continuous tubing + 10 dropline connectors Connect each tree to one complete dropline to speed up sap collection every day.
Three Piece Filter Kit Includes two one-quart prefilters and one 1-quart thick finishing filter. Cone-style, designed for sugarmaking, use for all stages of syrup making to remove niter (sugar sand). Washable and reusable.
Premium Candy-Quality Thermometer Accurately measuring temperatures throughout the process is key to high quality syrup and this thermometer is designed for high temp accuracy.
One 5/16" Wood-Boring Drill Bit Just add portable drill and you're good to go.
Maple Leaf Glass Bottle with Tamper-Lock Lid, 250 ml Reusable and great for gifting pure maple syrup to friends and family.
80-page "Guide to Maple Tapping" Written by a sugarmaker, this professionally-written book walks you through the entire process from identifying trees to drilling the hole to filtering, boiling, and bottling the syrup.
Handy Quick Start Instruction Sheet Take with you to the tree for a reminder on how to tap.
Exclusive Recipe Cards Pure maple syrup is for more than pancakes! It's paleo-friendly, all-natural and organic and a perfect sugar replacement in any recipe. Try these delicious options for every part of your menu.
Lifetime Guarantee on all taps and tubes plus full support from all of us at Maple Tapper (we're tapping too!).
Washable & Reusable All of this gear is washable and reusable and will last for many tapping season.
Made in North America
This is a great, electronics-free outdoor activity that everyone can enjoy. If you know how to drill a hole and boil maple syrup, you can do this! Don't miss out on this fun, family hobby! The sap run depends on the weather -- you need temps below freezing at night and in the 40s during the day. This sweet spot only last for a few short weeks every year. Have your gear ready when the sap runs!